Franconia Notch
Lincoln-Franconia, NH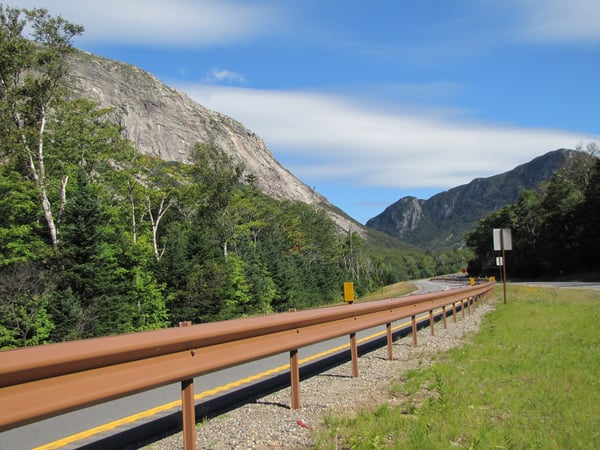 Located in the White Mountain region of northern New Hampshire, the project is subjected to an extremely harsh and aggressive Northeast environment. In the winter months, the use of sand and deicing salts to make the narrow roadway passable has a very strong impact on the longevity of any steel coating.
For many years, the choice of material for the guardrail system had been weathering steel since it met two very important criteria: it was strong and provided excellent safety protection and its color blended in with the natural surroundings. Unfortunately, the weathering steel guardrail failed a crash test conducted by the Department and all twelve miles had to be replaced.
After reviewing several options, the New Hampshire Department of Transportation created a performance based specification built around Duncan Colorgalv Thermoset, a duplex coating system of hot-dip galvanizing and powder coating. The decision was based on the fact that hot dip galvanizing could provide the necessary corrosion protection in this environment and that the powder coating color could match that of weathering steel. Additionally, the fact that galvanizing is an environmentally friendly process and the powder coating is free of V.O.C.'s added to the State's commitment to green construction.