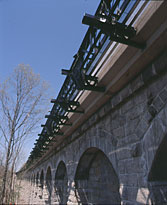 Wet Storage Stain Prevention
When galvanizers know items will be stacked or stored in humid environments after they have been galvanized, they will often suggest application of an after-galvanized treatment which will inhibit wet storage stain ("white rust").
Wet storage stain is an attack on the galvanized coating producing a white corrosion product. It is caused by retention of condensation or runoff water between contacting surfaces when air circulation is poor. While the attack is frequently superficial, despite the relative bulkiness of the corrosion product, its appearance may be objectionable. Your galvanizer can discuss simple treatments which can be applied at the galvanizer's facility.
See AGA publication "Wet Storage Stain" for more details.
Painting
In general, galvanized coatings used alone provide the most economic corrosion protection for steel. When galvanized coatings are painted it is usually for aesthetic reasons, for identification or warning, for camouflage, or added corrosion resistance under severe service or exposure conditions.
In many applications duplex systems of galvanizing-plus-paint are an ideal combination. The galvanized coating provides a stable base which greatly increases paint life, while the paint film protects the zinc coating to give a synergistic effect in which the combination lasts considerably longer than the total of each coating alone.
Where steel is exposed to highly corrosive environments or where access is difficult and the longest possible systems of hot dip galvanized coating-plus-paint provide the best available protection for steel. Very long service life is achieved even under adverse exposure conditions, resulting in outstanding economics compared to other coating systems.
The longer life of correctly chosen and applied paint coatings on zinc coated steel surfaces results from the stable zinc substrate which prevents initiation of rust at pores and scratches, and resulting creep corrosion beneath the paint film.
Test results show that suitable paint coatings on galvanized steel achieve a synergistic effect in which the duplex coating lasts up to three times as long before maintenance as equivalent paint coatings on black steel.