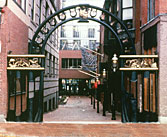 Cleanliness is very important to achieve proper and complete galvanizing of castings. Thorough abrasive cleaning is the most effective method of treatment for the removal of foundry sand and impurities. Conventionally, this is accomplished by grit shot, or sand blasting. Grit blasting or a combination of grit and shot is generally preferred. Usually, castings are cleaned at the foundry since most galvanizers do not have abrasive blasting facilities.
Conventional acid cleaning process employed by most galvanizers does not clean castings well because sand and other surface inclusions are not removed by hydrochloric or sulfuric acid. After castings have been abrasively cleaned, they may then be flash pickled to prepare them for galvanizing.
Galvanizing sound, stress-free castings with good surface finish will produce high quality galvanized coatings. The following design and preparation rules should be applied for castings to be galvanized:
Avoid sharp corners and deep recesses.
Use large pattern numerals and generous radii to facilitate abrasive cleaning.
Specify uniform wall sections. Non-uniform wall thicknesses in certain casting designs may lead to distortion and/or cracking. These results from stresses developed as the temperature of the casting is increased during the galvanizing process. Uniform wall sections and a balanced design will reduce this.
Heat treat castings before galvanizing. Under certain conditions of composition or thermal history, the impact resistance of malleable iron castings may be significantly reduced as a result of galvanizing. This can be avoided if the castings are heat treated prior to galvanizing as follows:

Heat at a temperature of 1250°F (677°C) until all sections have reached that temperature (no soak required).
Perform finish machining and/or heat treating after abrasive blasting.