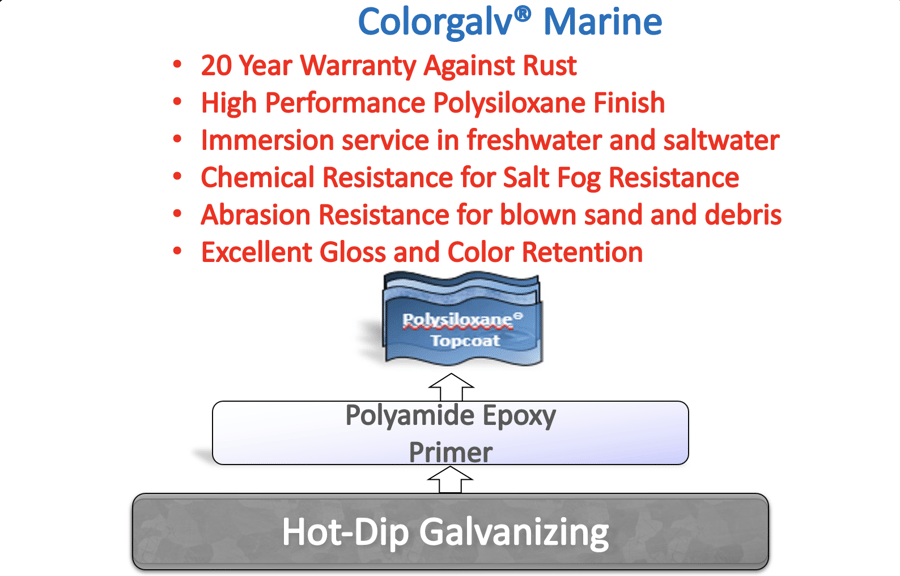 Our Duragalv® Hot Dip Galvanizing system for Iron and Steel with a Polyamide Epoxy Primer and a Polysiloxane Topcoat to provide a high performance architectural finish with improved resistance to salt fog and abrasion from blowing sand in marine environments with a 20 year warranty against rust.
Overview
Colorgalv Marine® is a factory applied polysiloxane over our primer and freshly galvanized steel. This topcoat guarantees the best performance in coastal and submerged environments.
Salt, moisture and wind blown sand are detrimental to the performance of most coating systems. However, Colorgalv Marine® provides you the highest level of protection in this aggressive, hostile environment.
Composition
Base: Zinc-alloy coating.
Primer: Polyamide epoxy prime coat.
Topcoat: Polysiloxane color-pigmented finish.
Best For
Coastal or submerged steel.
Example Projects
Download Colorgalv Marine Specs: