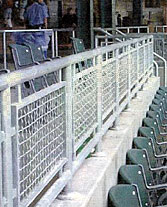 Some fabricated assemblies may distort at the galvanizing temperature as a result of the stresses induced during manufacturing of the steel and in subsequent fabricating operations.
To minimize distortion, design engineers should observe the following recommendations:
Where possible, use symmetrical rolled sections in preference to angle or channel frames. I-beams are preferred to angles or channels.
Use parts in an assembly that are of equal or near equal thickness, especially at joints.
Bend members to the largest acceptable radii to minimize local stress concentration.
Accurately perform members of an assembly so that it is not necessary to force, spring or bend them into position during joining.
Continuously weld joints using balanced welding techniques to reduce uneven thermal stresses. Staggered welding techniques to produce a continuous weld are acceptable. For staggered welding of 1/8 inch (3.18 mm) or lighter material weld centers should be closer than 4 inches (10.16 cm).
Avoid designs which require double dip galvanizing or progressive galvanizing. It is preferable to build assemblies and sub-assemblies in suitable modules so that they can be immersed quickly and fully in a single dip. In this way, the entire fabrication can expand and contract uniformly. Where double dip or progressive galvanizing is required, consult with your galvanizer if you anticipate a wide variance of section size.
Consult with your galvanizer regarding the use of temporary bracing and/or reinforcing to minimize or prevent warpage and distortion during galvanizing.
Guidelines for minimizing distortion warpage are provided in ASTM Recommended Practice A384, "Safeguarding Against Warpage and Distortion During Hot-Dip Galvanizing of Steel Assemblies" and CSA Specification G164, "Hot Dip Galvanizing of Irregularly Shaped Articles."