Boat Trailers
Wareham, MA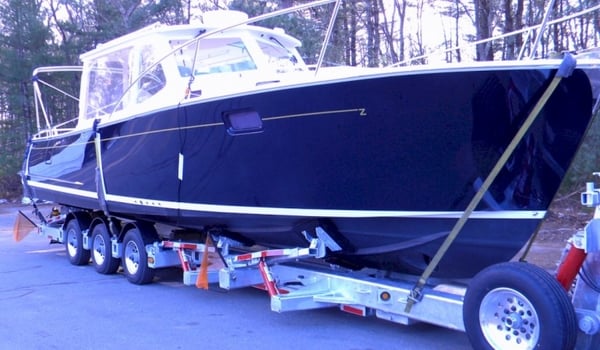 The manufacturer designs and builds state-of-the-art hydraulic trailers for today's marinas, boatyards, haulers, restorers, dealers and manufacturers. Their hydraulic trailers solve the problems of limited storage space, high transportation and handling costs, unwieldy cradles, and time-consuming loading and launching procedures.
Since the trailers are constantly exposed to harsh environments such as fresh or salt water, and since the fabrication is tubular, corrosion protection was a primary consideration. Further, the trailers were often seen as an integral part of the high-end boats they were storing or hauling and the aesthetic component was also important. Hot-dip galvanizing and the durability of the Colorgalv system addressed all issues.
The unit is regularly exposed to harsh, fresh, and saltwater environments. All steel components of the trailer are galvanized and the tubular frame received the Colorgalv process. The unit was re-assembled after hot-dip galvanizing, requiring all tolerances and joined areas to be as close as possible to the original dimensions.
The owner, a nationally- known manufacturer of boat trailers and boat hauling equipment, wanted a marketing edge. He decided to offer a superior quality boat trailer with long-term corrosion prevention and a maintenance-free coating.