Chinatown Park
Boston, MA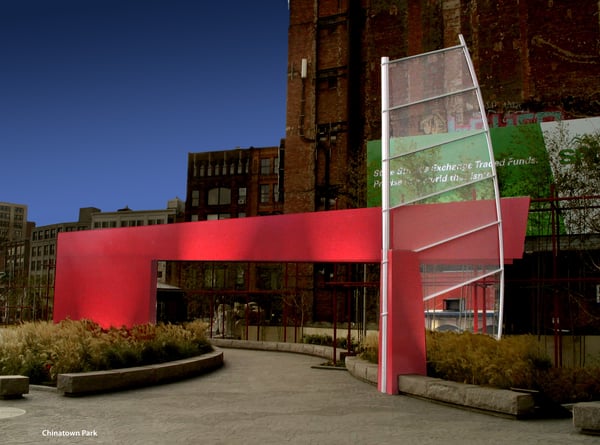 Located in the heart of Boston's Chinatown, the Chinatown Park project has a great deal of public exposure, an element that made quality and craftsmanship important components in the choice to utilize galvanizing on the project. As a landmark project representing a major neighborhood in Boston, longevity and appearance were major considerations. The Colorgalv system met those requirements.
A duplex system, Colorgalv combines the superior protection of galvanized steel with the additional benefits of a high performance topcoat. This combination provides a synergistic effect wherein the life expectancy of the combined system is 1.5 – 2.5 times the life expectancy of the individual systems. Colorgalv allows a structure to have the best of both worlds - aesthetic appeal and corrosion protection. For projects that require a particular color scheme, Colorgalv is the best way to get the corrosion-resistant protection of galvanizing, while allowing a structure to incorporate any color desired.
For this artistic endeavor, the architect's design represents a balance of memory and prophecy. The theme is expressed through contemporary interpretations of traditional elements such as village festival spaces, contemplative gardens, gateways, garden walls, flowing water, and Asian plantings. A stylized sampan sail, fabricated in stainless steel and LED's, and the contemporary gateway serve as a counterpoint to the traditional "dragon" gate on nearby Beach Street.