Manchester Airport Parking Garage
Manchester, NH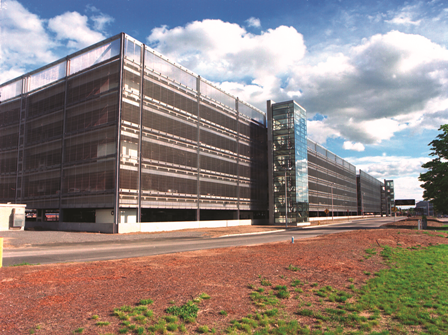 Harsh, New Hampshire winters, minimal maintenance, and long life were the primary considerations that led to the decision to use hot dip galvanized steel in the construction of this parking garage. Thirty-two hundred tons of galvanized steel were used in the fabrication of the steel columns and frame of this 4,800 car parking structure.
The cost effectiveness of galvanizing was determined to be superior to any other coatings being considered. The uniform appearance and pleasing patina offered the aesthetic appeal required by the owner.
Timing was another factor since the airport had a minimal amount of parking space for it's rapidly growing use. Since galvanizing is a factory applied process and can be done 365 days a year, there was no concern that the project would be delayed because of the winter snows. To expedite the sequencing of the steel beams and precast concrete, the contractor strategically staged material to minimize crane movement once the steel arrived and the erection process began. As a result, the placement of structural steel was completed five weeks ahead of the original schedule.