Christina & John Markey Memorial Pedestrian Bridge
Revere, MA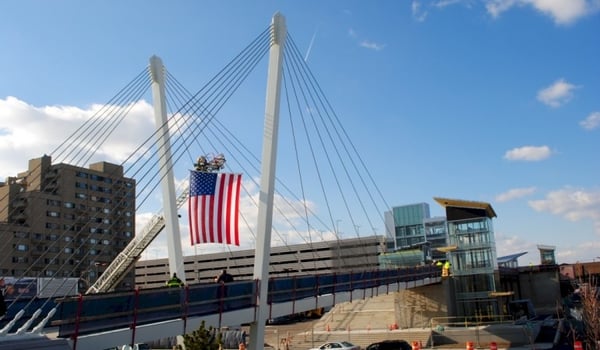 The Christina and John Markey Memorial Pedestrian Bridge is located in Revere, Massachusetts directly on the Atlantic Ocean and in an area exposed to industrial pollutants from manufacturing operations and petrochemical storage facilities. The bridge, designed by the same architect who designed the iconic Zakim Bridge in Boston, is part of the Revere Transit Facility and Streetscape Project which will be an important link to historic Revere Beach, America's first public beach.
Given the aggressive environment, the historic significance of Revere beach, and the public awareness and use of this pedestrian bridge, it was determined the only method available to protect the structure from corrosion was hot-dip galvanizing. To enhance the aesthetics of the project, a duplex coating was specified, giving the structure an additional measure of protection.
The 151-foot pedestrian bridge is a slender steel cable stayed structure with a pair of outward inclined towers framing access to Revere Beach. Towering 50 feet over Ocean Avenue, the bridge will be illuminated by LED lights which will bathe it in colors visible from Revere Beach Boulevard and the sea.
The fact that hot-dip galvanizing was selected for this project located in an extremely aggressive environment, a highly visible link to an historic site, and an iconic design by a world-renowned architect, reinforces the reputation of hot-dip galvanizing as the pre-eminent choice for corrosion protection and good looks.