Worcester Polytechnic Institute Parking Garage Green Roof
Worcester, MA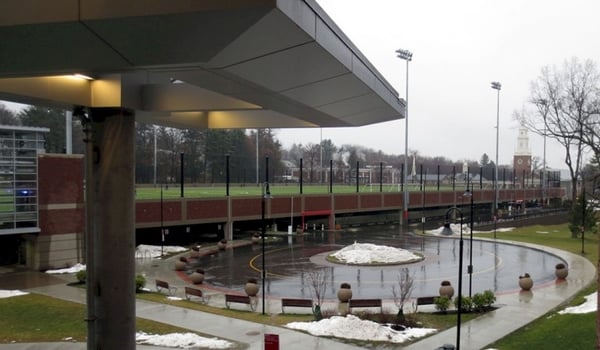 The parking garage "green roof" at Worcester Polytechnic Institute, one of the leading Engineering schools in New England, is a sustainable building with features such as storm water management, energy efficiency, and the use of materials with recycled content. The sustainable benefits of hot-dip galvanized steel made it the logical choice for corrosion protection for the fencing support components. The very nature of the project is an important sustainable statement in that the land is being used for two purposes under one footprint.
The $20 million, 534-car parking garage has rooftop fields for softball, soccer, field hockey, lacrosse, rugby, and a variety of other recreational activities.

The new facility covers the entire site of the former softball and baseball fields. The one-story structure features a synthetic turf field, a brick façade, and steel fencing with netting to contain stray balls. Duncan Galvanizing's Duragalv and Colorgalv systems for galvanized steel were specified to provide the corrosion protection and aesthetics for the exposed steel.