Step 1: Surface preparation
Thorough cleaning is necessary as zinc will only adhere to clean steel. This gets accomplished by:
Degreasing: a hot alkaline cleaner is used to remove oil, grease, dirt, loose particles, and any other contaminates that may exist on the surface of the material

Acid pickling: an acid bath is used to remove mill scale and oxides

Fluxing (dry kettle): pre-fluxing in a zinc ammonium chloride solution to remove oxides and to prevent oxidation prior to dipping into molten zinc
Step 2: Immersion in bath of molten zinc
During this step, the steel is immersed in a bath of molten zinc at approximately 830˚F. The mix in the bath consists of ~98% pure zinc and 2% additives (Al, Bi, Ni). The zinc reacts with the iron in steel and it forms a coating which is metallurgically bonded to the steel. Also, the zinc flows into recesses and other areas difficult to access, coating all areas of complex shapes thoroughly for corrosion protection. Hot dip galvanizing is the only coating system that protects tubular steel on the inside. The zinc goes "in, around, over, under and through" the fabrication.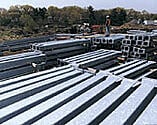 The size of zinc baths varies from galvanizer to galvanizer and this restricts the size of steel that can be galvanized. When choosing a galvanizer, make sure that the size of the zinc bath is big enough to accommodate the size of your products such as large structural shapes.
The final product is protected against corrosion as zinc creates a barrier between steel and the environment and also cathodically protects the base metal.
Step 3: Finishing

After the steel is withdrawn from the galvanizing bath, excess zinc is removed by draining, by vibrating or for small items, by centrifuging. The galvanized item is then cooled in air.

Step 4: Inspection
Steel is inspected after galvanizing to verify conformance with specs.
Contact Duncan Galvanizing
For high-quality hot dip galvanizing, color galvanizing, and more, contact Duncan Galvanizing at (617) 389-8440 or fill out a contact form.
Sources: Duncan Galvanizing Corp., American Galvanizers Association