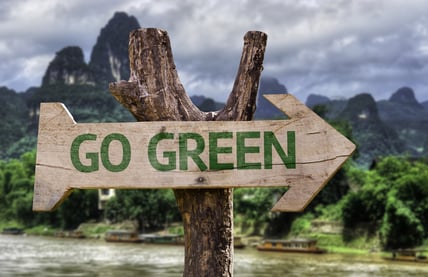 One of the benefits of hot-dip galvanizing is that it is a very 'green' product. If your project is looking to lessen its environmental impacts by reducing waste, harmful emissions, and other adverse environmental effects, hot-dip galvanizing is a great corrosion protection option. Here are a few of the environmental benefits of hot-dip galvanizing:
Recyclable & Infinitely Renewable
Zinc and steel are both recyclable, meaning even at the end-of-life of a structure or product, the zinc can be reused for other purposes, reducing the amount of waste hot-dip galvanizing produces. In fact, 30% of the world's zinc has been recycled, and steel is the most recycled resource in the world. Therefore, at the end of your project's life, the galvanized steel can almost always be recycled and reused. This dramatically decreases the amount of waste that your project will produce.
Additionally, zinc is an infinitely renewable resource. Zinc can be recycled without losing any of its critical chemical or physical properties. Both zinc and steel can be reused many times without losing their structural integrity. However, the longevity of hot-dip galvanized steel allows for the product to have a long life before it ever needs to be recycled.
Zinc is Natural and Abundant
Zinc, which composes about 98% of hot-dip galvanizing, is a resource that can be found naturally in many elements of the earth, including water, soil, and even the earth's crust. Zinc is also essential to life on earth, and is a necessary mineral for almost every organism on earth to live. Because zinc is already abundant in the environment naturally, the use of hot-dip galvanizing does not introduce disruptive or harmful elements into the environment like other corrosion protection methods.
Life Cycle Cost Assessment & Additional Benefits
A products' life-cycle cost assessment is a measurement of its impact on the environment throughout its entire life, from production to end-of-life. The LCA conducted using a wide variety of data over time for hot-dip galvanized steel found many additional environmental benefits. For example, all material inputs and emissions outputs are isolated to the production phase, most hot-dip galvanized structures require little to no maintenance throughout the project's life, and it does not use any additional materials after the initial production and installation.
The official life cycle cost assessment of hot-dip galvanized steel can be found here.
Contact Duncan Galvanizing
Duncan Galvanizing is the Northeast's trusted provider of hot-dip galvanized steel, color galvanizing (factory-applied painting or powder coating over galvanized steel), and more. Contact us today at (617) 389-8440 or fill out an online contact form and we will reach out to you.