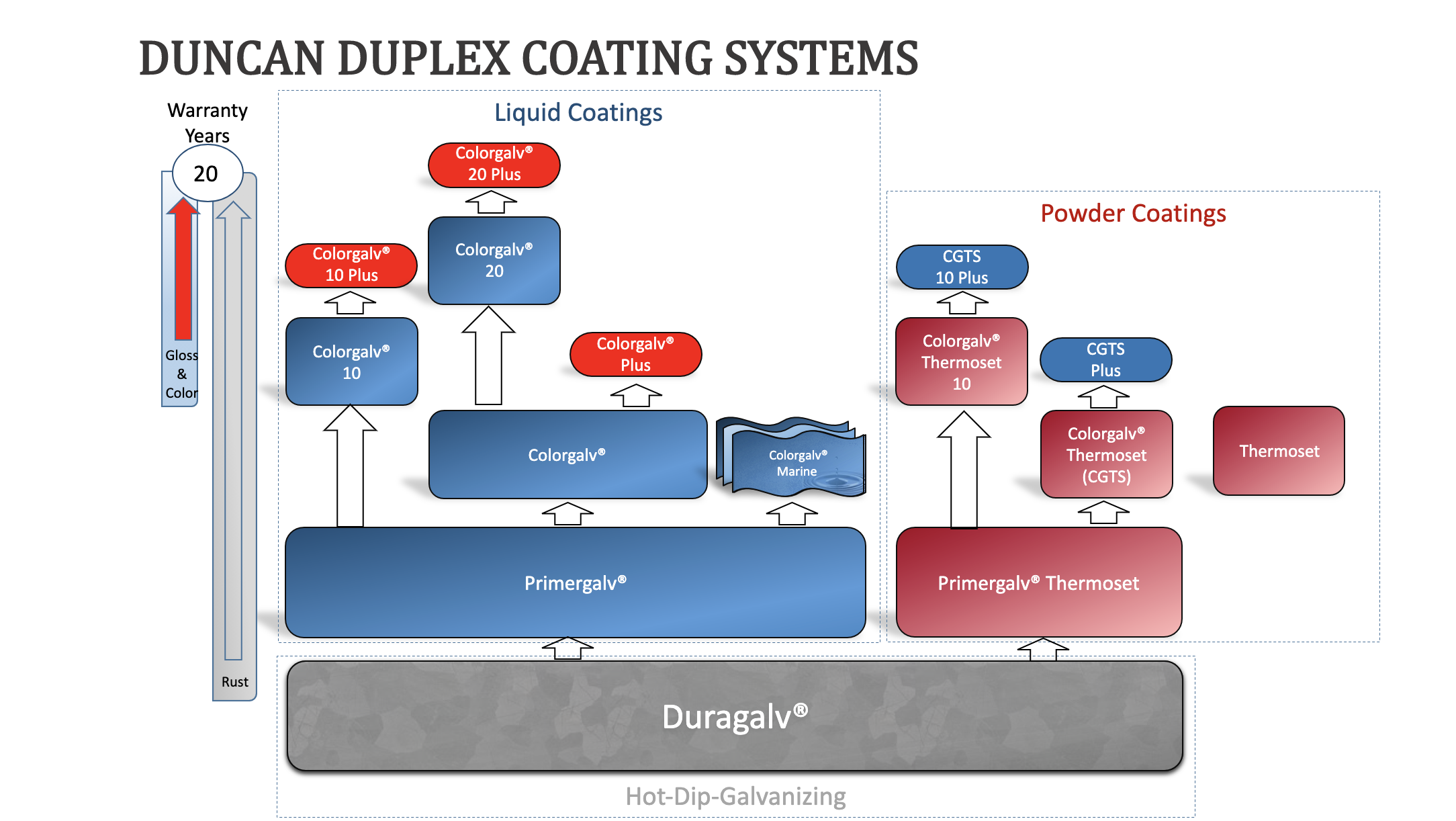 Duplex coatings are a great way to add reliable and long-lasting corrosion protection to your steel, as well as improve its aesthetics. We broke down the facts about duplex coatings, and a few reasons to specify Duncan's duplex coating system on your next project:
What is a Duplex Coating System?
A duplex coating system is the use of two coating systems - hot dip galvanizing and either a liquid or powder coating over the galvanized steel. The combination of these two processes provide excellent protection against corrosion, and far better protection than using just one alone. This allows for less maintenance over time, a more polished appearance, and other benefits.
Benefits of Duplex Coating
Duplex coatings provide enhanced protection for steel. When hot-dip galvanized steel is topcoated with paint or powder, this duplex system provides a more enhanced level of corrosion protection known as the synergistic effect. Paint or powder coating provides a protective barrier for hot dip galvanizing, as the exterior layer slows down corrosion from reaching the underlying zinc. If the exterior layer is worn down, the zinc from the hot dip galvanizing still provides excellent corrosion protection. This combined system is more than the sum of their parts. Both parts extend life of each other, they do much better and last much longer than if they were isolated. Additionally, the hot dip galvanizing primer virtually eliminates underfilm corrosion and paint peeling. It also extends the maintenance cycle of black steel by up to 2x. Duncan Duplex Coating Systems offer a 20 year warranty against corrosion, so your project will be protected against corrosion for decades to come.
Duplex coatings are also great for the aesthetics of your projects. Sometimes, the silver finish of hot dip galvanizing alone is not appropriate for certain projects. Duplex Coatings allow for a number of different finishes on steel to achieve your desired appearance. Duncan's Colorgalv allows steel to be finished with a wide variety of colors. Some projects may require a vibrant color for safety reasons, need to blend in with surroundings, or other have other specific aesthetic needs. Duplex coatings use paint or powder to make this possible.
There are also economic benefits when duplex coatings are specified. When a duplex coating is used, galvanized steel will often stay in good shape for decades until maintenance is needed. The less maintenance required, the less money that needs to be spent on the project after completion. Because of the synergistic effect dramatically increasing the time before maintenance, the initial cost pays off over the life of the project and ends up costing far less than coating bare steel.
LITTLE KNOWN FACTOID:
Did you know that Duncan Galvanizing was the first galvanizer in the country to do Hot Dip Galvanizing and factory applied coatings when it introduced Colorgalv in the mid-1970's?
Contact Duncan Galvanizing
For high-quality duplex coating systems, hot dip galvanizing, color galvanizing, and more, Contact Duncan Galvanizing at (617) 389-8440 or fill out an online form to get started.