Dewey Square Tunnel Vent Building
Boston, MA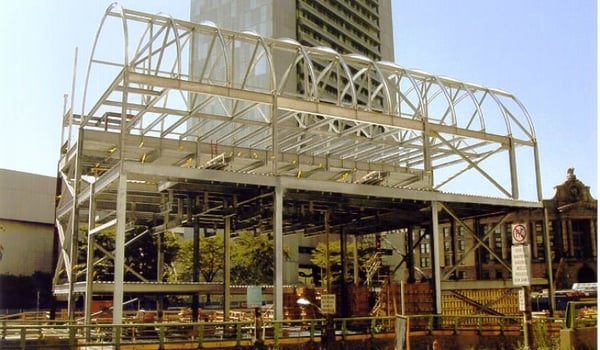 The Dewey Square Tunnel Air Intake Structure is located on the southerly side of Congress Street in Boston and adjacent to the existing I-93 Southbound Purchase Street Off-Ramp. This location is less than a mile from Boston Harbor. The exterior walls of the structure will provide tunnel ventilation – both fresh air supply and exhaust capacities – for the rehabilitated Dewey Square (South Station) tunnel below. Even though the steel will not be exposed to view, it is in an extremely aggressive and corrosive environment.
The synergistic effect of Primergalv, Duncan's system of combining a barrier and cathodic protection system for steel (hot dip galvanizing and an epoxy prime coat), will protect this structure from corrosion due to a moist environment, car splash back, and constant exposure to pollution and exhaust fumes from vehicles. The specifier for the building had extensive experience with Duncan's system on other contracts and felt confident it was the best choice to fulfill these goals.
Two hundred tons of structural steel for the vent building was processed, and maintaining the curve of the barrel arch detail required special attention and handling by Duncan. The Primergalv process will continue to keep this project functioning maintenance-free for decades.