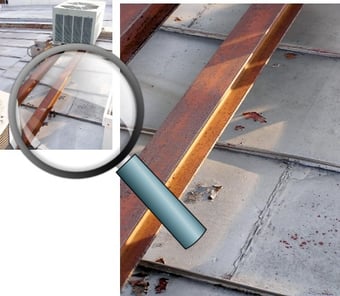 The expression "out of sight, out of mind" is particularly appropriate for rooftop dunnage. Rarely, if ever, is any attention paid to the steel supporting the mechanical equipment supports, HVAC, solar and cooling tower.
Even though this material doesn't have the same cachet as Architecturally Exposed Structural Steel, it is an integral part of the building. While initial cost of the dunnage is part of the overall construction budget, replacement or maintenance is not. That cost comes directly out of the Owner's pocket!
How to Protect Steel From Corrosion
How can the steel be protected from corrosion in the aggressive New England environment? The answer is simple: Hot Dip Galvanizing. Galvanizing is a metallurgical bond between the zinc and steel that provides protection against virtually any corrosion causing element.
Hot Dip Galvanizing lasts longer and protects better than paint and is a "green" process and will help in reaching your LEED goals. Paint is NOT enough to protect your rooftop steel.
Think about it: You don't want to rent a crane in five years to repair a problem caused today.
Contact Duncan Galvanizing Today
Duncan Galvanizing is proud to be the Northeast's premier hot dip galvanizers. Contact us today at 617-389-8440.