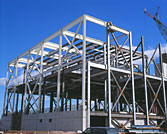 Utilizing a protective coating such as hot-dip galvanizing is incredibly important to protect steel against damage from corrosion and other sources. Damage to steel can cause impactful financial, aesthetic, and safety failures, so it's crucial to specify a protective coating such as hot dip galvanizing if steel is being used. Important benefits of galvanizing include:
Prevents Structural Failures
Structural failures due to corroded steel can be devastating. They can cause serious injuries, loss of life, public outcry, and overwhelming financial damage. Hot dip galvanizing offers outstanding steel corrosion protection that preserves the structural integrity and can help to ensure your steel stays safe for use for years to come. The tightly-bonded, abrasion resistant inter metallic layers provide an unmatched protection from corrosion.
Prevents Aesthetic Failures
Aesthetic failures, although not physically dangerous, can be damaging to the reputation of your business. A project with damage and corrosion can distract from the work put in and the beauty of the architecture, and send the wrong message about the quality of your work. Hot dip galvanizing is a fantastic way to keep your steel looking like-new, decades after project completion. It's important to use a protective coating that will uphold the desired look of the steel used to prevent any unsightly corrosion, and lost opportunities for future work. Additionally, hot dip galvanizing is able to protect the aesthetics of even the most intricate of steel designs, and can even be used on artistic projects to preserve its original finish.
Saves Time & Money from Corrosion Costs
Corrosion can result in pricey and time-consuming maintenance. In fact, 659 billion dollars of structural damage have occurred in the US alone from corrosion, and can quickly create a financial burden for you. Galvanizing allows for years, sometimes decades before maintenance is required. This extended time without maintenance allows for significant life-cycle cost savings. Oftentimes, the initial cost is the life cycle cost, making galvanizing a great investment.
Additionally, the additional resources needed for extra maintenance can derail your environmental sustainability efforts. Quality protective coating can eliminate the need for the use of excess natural resources due to the need for constant maintenance.
Protection From Vandalism
Vandalism and graffiti can be costly if it cannot be easily removed from steel. Some finishes offer graffiti protection to ensure that your investment will not be permanently damaged by vandalism. This is particularly important to consider if you are building a structure in a high traffic area, such as public transportation. A finish with graffiti protection may be a good choice if your team is concerned about vandalism. If you utilize one of Duncan Colorgalv Plus coatings, you will have long lasting anti-graffiti protection.
Contact Duncan Galvanizing - Hot Dip Galvanizing in Everett, MA
Duncan Galvanizing is the Northeast's trusted provider of hot-dip galvanizing (Duragalv), color galvanizing (Colorgalv) and more. Contact us today at (617) 389-8440 to get started or request a quote.